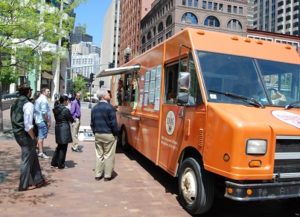 The sun is shining again, the school year is complete, and everybody is anxious to get out and have some fun. Trending all over the country, food trucks are a great way to get out in the summer, try new cuisines and get the entire family involved.  Summer food-truck festivals and rallies also seem to be catching on and the number of food-truck vendors and cuisine choices are constantly increasing.
What's best about food trucks is their mobility. You can catch one in your area just by following them via social media. Food trucks cater events and parties. Pricing for these catered events varies, so the best thing to do is call the food truck. In most cases, food trucks are flexible with adapting to your specific event and budget.
Running a food-truck business can be very profitable (a 2012 study by Emergent Research projected that food truck revenue would quadruple to $2.7 billion by 2017), but at times challenging. Many cities have been scrambling to modify their laws to keep up with this growing business.
Now, most states, counties and/or cities require Food Handlers to be formally trained and a Person-In-Charge (PIC) or Certified Food Manager pass a certification exam to ensure that all food handlers receive a reasonable level of training in food safety practices to reduce the potential for foodborne illness.
A Certified Food Protection Manager (CFPM) is a certification that is obtained by the owner or employee of food facilities that prepare, handle, or serve non-prepackaged potentially hazardous food.
Get your Food Manager Training and ANSI Certification today! ON SALE now for only $99.00 – Valid in all States and for 5 years.  Also, check out the state-approved Food Handler Training Course for only $7.00.