Getting married and planning you wedding? Food trucks have long been a favorite lunchtime and late-night food option, and they're also a super-popular wedding catering trend.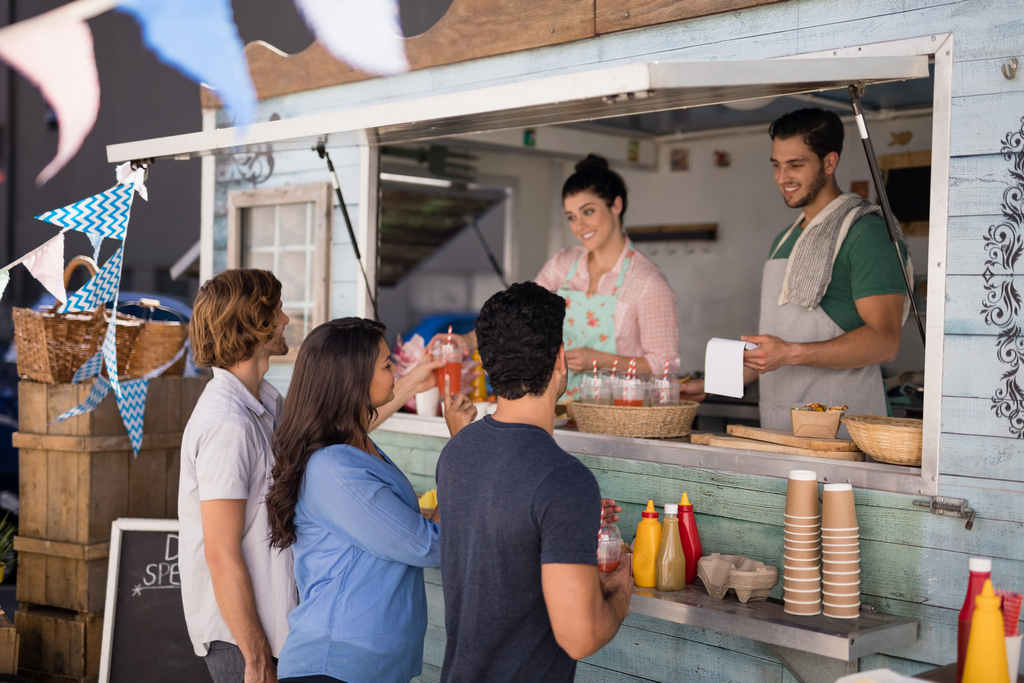 The latest rage in wedding catering is to utilize food trucks and couples everywhere are jumping onto this latest trend. Hiring a food truck to cater a wedding is not only a budget-conscious choice, it's become the new must-have at any truly chic wedding.
If midnight made-to-order tacos or fresh doughnuts for brunch sounds perfect for your wedding festivities, here's some great tips you need to know before you book a food truck for your wedding reception.

Food Safety Training - 10% OFF SALE
Learn about proper hygiene, cross contamination, cold and hot food safety, foodborne pathogens, and best practices to prevent foodborne illness.
Food Manager Training & ANSI Certification - $99.00
Food Handler Training - only $7.00!
HACCP Training 16hr/4hr/1hr
Enter Promo "train10off" at Checkout
Reasons Why Food Trucks are Great for Wedding Receptions
Trendy food truck chefs and the dishes they create are gaining in popularity. It's no wonder that hip, young brides are turning to food truck catering when they start planning the food for their big event. Whether catering a four-course meal, building a beautiful buffet, whipping up to-die-for desserts or serving late-night munchies to the last party-goers, food trucks add a festive and fun element to any wedding. Here's why they're great: 
Food trucks can serve delicious hot or cold meals or appetizers, plus provide a full bar at wedding receptions, rehearsal dinners, bachelor and bachelorette parties and even events at the bride or groom's home.
Food trucks can prepare finger foods and drinks for the wedding party to munch as pre-wedding preparations get under way.
Food trucks add to the festive, fun atmosphere of wedding showers and bridesmaids' luncheons.
Food trucks can create a "lounge" at your wedding reception. Located away from the dance floor, the lounge is the newest wedding trend, giving guests a quieter place to meet, greet and eat during the reception.
Food trucks can drive up with fresh desserts, hot waffles or an after-dinner cheese-and-port bar just before the party winds down.
Food truck operators can arrange for tables, chairs, linens, plates, silverware a DJ, wait staff, bartender and most services you may need.
Food trucks can be an economical way to serve more food to more people.
Food trucks shun one-size-fits-all menus. Most caterers are creative and will work with you to develop an exclusive menu just for your wedding reception.
Food trucks often do more business catering than they do serving street food, so gourmet food trucks are typically experienced at providing top-quality food to large groups. 
Check the Venue or Local Policies
Local city-owned spots  (historic houses, regional parks, etc.) may not allow food trucks to park on their property, including in the parking lot or on the street adjacent, even when they have an open catering policy.
What if the venue is privately-owned, but the only place for the food trucks to park is on the street? Better check with the venue and the city's ordinance.
Ask about parking, electricity hook-ups, weather options, and about space to queue up.
Consider the Season
Summer seems like the obvious season to host a food-truck-catered wedding, but don't forget that your guests could be standing in line outside, probably curbside, far from the shade and comfort of your rented tent or courtyard. So, depending on your location, consider hiring a food truck for a fall or spring wedding when the weather's milder.
Summary
Food trucks have so many perks: style for days, great food options, budget-friendly vendors, and ease of having everything in one place. But weather, long lines, and of course, the logistics of the schedule can make a food truck wedding challenging.